Soha
₨ 130,000
Size Chart
| SHIRT SIZE | XS | S | M | L | XL |
| --- | --- | --- | --- | --- | --- |
| SHOULDER | 13.5 | 13.5 | 14.5 | 15 | 16 |
| CHEST | 17.5 | 18 | 20 | 22 | 23 |
| SLEEVES | 20 | 21 | 22 | 22.2 | 23.5 |
| HIP | 19.5 | 20 | 22 | 23.5 | 24.5 |
| LENGTH | 36 | 43 | 44 | 45 | 45 |
| PANT SIZE | PANT SIZE | PANT SIZE | PANT SIZE | PANT SIZE | PANT SIZE |
| N/A | XS | S | M | L | XL |
| LENGTH | 34 | 35 | 36 | 37 | 38 |
| THIGH | 20 | 22 | 20 | 27 | 29 |
| WAIST | 27 | 31 | 22 | 41 | 45 |
Add to wishlist
Adding to wishlist
Added to wishlist
Behold the ethereal beauty of "Soha," an ensemble that captures the essence of wisdom in every stitch. The long front open jacket, crafted from the finest lama tissue fabric, drapes like a whisper of wisdom.Delicate details embellish the neckline and sides, as zardozi sequences and Swarovski hand embellishments weave their magic.These intricate adornments bestow a radiant glow upon the ensemble, lending it a mesmerizing aura that captivates the senses. With each shimmering embellishment, this attire resonates with the wisdom of timeless beauty.Completing this enchanting ensemble is a stunning flowy dupatta, adorned with embellished borders. As it gracefully cascades, it adds a touch of sophistication and elegance to the overall look. This outfit is a perfect choice for a valima or nikkah bridesmaid dress, as it embodies the reverence and grace befitting such significant occasions.
Fabric :pure lama tissue
Hand work . Zardozi
Shirt, pant & Dupatta
| | |
| --- | --- |
| Size | |
| Style | |
| Delivery Time | |
| Collections | |
| Color | |
| Fabric | |
| Ocassions | |
| Work Details | |
You have not viewed any product yet.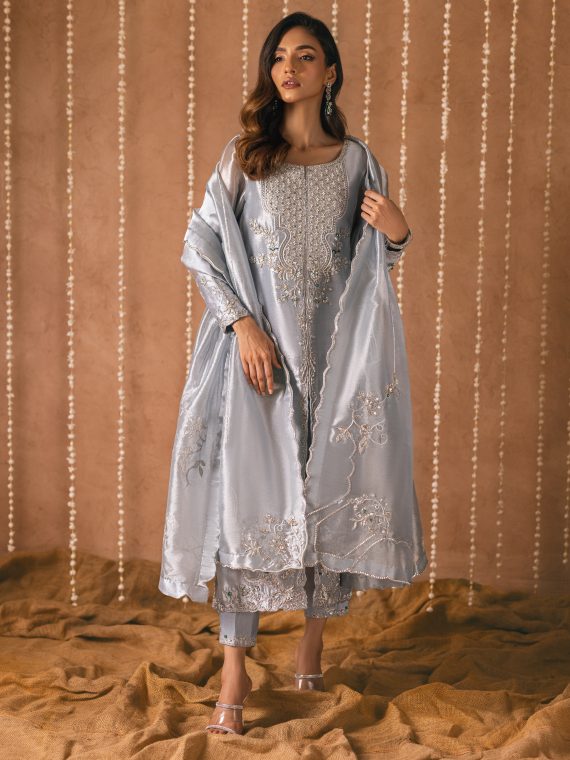 Soha
₨ 130,000