Umay
₨ 11,000
Size Chart
| Sizes | S (In) | M (In) | L (In) |
| --- | --- | --- | --- |
| Length | 36 | 36 | 37 |
| Sleeves | 21.5 | 22 | 22.5 |
| Shoulder | 14 | 14.5 | 15 |
| Chest | 20.5 | 21.5 | 22.5 |
| Daman | 42.5 | 42.5 | 42.5 |
| Arm Hole | 9 | 9.75 | 10.25 |
| Waist | 20.5 | 21.5 | 22.5 |
| Sizes | S (In) | M (In) | L (In) |
| --- | --- | --- | --- |
| Length | 38 | 39 | 40 |
| Waist Extended | 38 | 40 | 42 |
| Waist Relaxed | 26 | 28 | 30 |
| Hip | 15.5 | 16.5 | 17.5 |
| Thigh | 16.5 | 17.5 | 18.5 |
Delivery: 2 to 3 weeksNote : Delivery will vary as per customer location
Add to wishlist
Adding to wishlist
Added to wishlist
Description
This stunning white cotton 3 piece is the perfect outfit for any occasion. The kurta features a digital printed dupatta, pintucks on the front and laces, lace on the daman with dori scallops, a back diamond cut with 3D flowers, pintucks on the sleeves with scallops and cut with 3D flowers, culottes cut trousers with pintucks and scallop cut with lace, and a dupatta with lace finishing. The kurta is made from soft, breathable cotton that will keep you cool and comfortable all day long. The pintucks and lace add a touch of elegance to the kurta, while the digital printed dupatta adds a pop of color. The culottes cut trousers are both stylish and comfortable, and the pintucks and lace add a touch of sophistication. This 3 piece is perfect for a day out.
Color: white
Fabric: cotton and monal
Type: laces and embellishment
Style: normal cut
You have not viewed any product yet.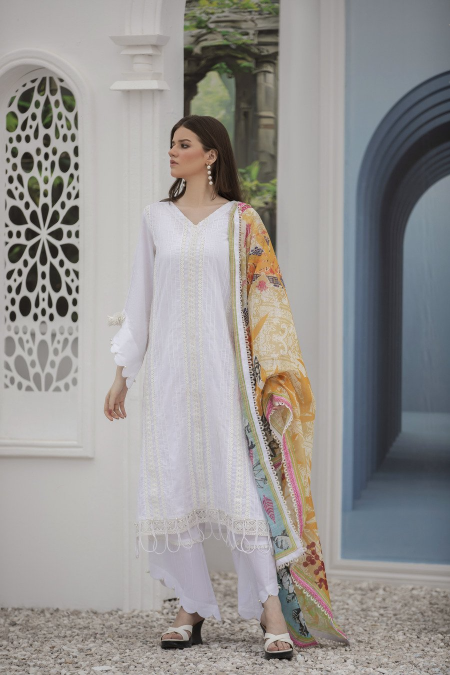 Umay
₨ 11,000