MARJAAN
₨ 15,500
Size Chart
| Sizes | XS (In) | S (In) | M (In) | L (In) | XL (In) |
| --- | --- | --- | --- | --- | --- |
| Full shirt length | 40 | 41 | 42 | 43 | 44 |
| Short shirt length | 33 | 34 | 35 | 36 | 37 |
| Sleeve length | 21.5 | 22 | 22.5 | 22.5 | 23 |
| Arm Hole | 8 | 8.5 | 9 | 9.5 | 10 |
| Bicep | 14 | 14.5 | 15 | 16 | 17 |
| Shoulder | 14 | 14.5 | 15 | 15.5 | 16 |
| Bust | 18 | 19 | 20 | 22 | 24 |
| Waist | 15 | 16 | 17 | 18 | 20 |
| Hip | 18.5 | 19.5 | 20.5 | 22.5 | 25 |
| Daman | 19 | 20 | 22 | 23 | 25 |
| Sizes | XS (In) | S (In) | M (In) | L (In) | XL (In) |
| --- | --- | --- | --- | --- | --- |
| Pant Length | 36 | 36.5 | 37 | 38 | 39 |
| Capri Length | 32 | 33 | 34 | 35 | 36 |
| Wasit | 28 | 30 | 32 | 34 | 36 |
| Thighs | 23 | 24 | 25 | 27 | 30 |
Delivery Time: 3 to 4 WeeksNote : Delivery will vary as per customer location
Add to wishlist
Adding to wishlist
Added to wishlist
Product Description:
Marjaan features a jacket style heavily geometric worked neckline with intricately hand-worked & adda embellished front, & back, the outfit is perfect to be worn at an intimate function. The composed sleeves are hand embellished as well to give it the perfect look of a festive formal. The outfit is paired with a wide leg trouser and Organza duppata.
Shirt Fabric: Organza shirt
Dupatta: Organza
Lining: Cotton silk
Trouser: Raw silk
Disclaimer:
The color of the outfit may vary due to photographic lighting sources
Unstitched Includes fabric only and not embellishments.
Stitched articles include embellishments but can vary from the picture shown sometimes.
Custom length or any other changing which varies from our standard size chart comes under customized stitching.
All the sleeveless dresses are stitched with sleeves by default until sleeveless is requested by the customer. Straight sleeves are attached.
| | |
| --- | --- |
| Size | |
| Ocassions | |
| Delivery Time | |
You have not viewed any product yet.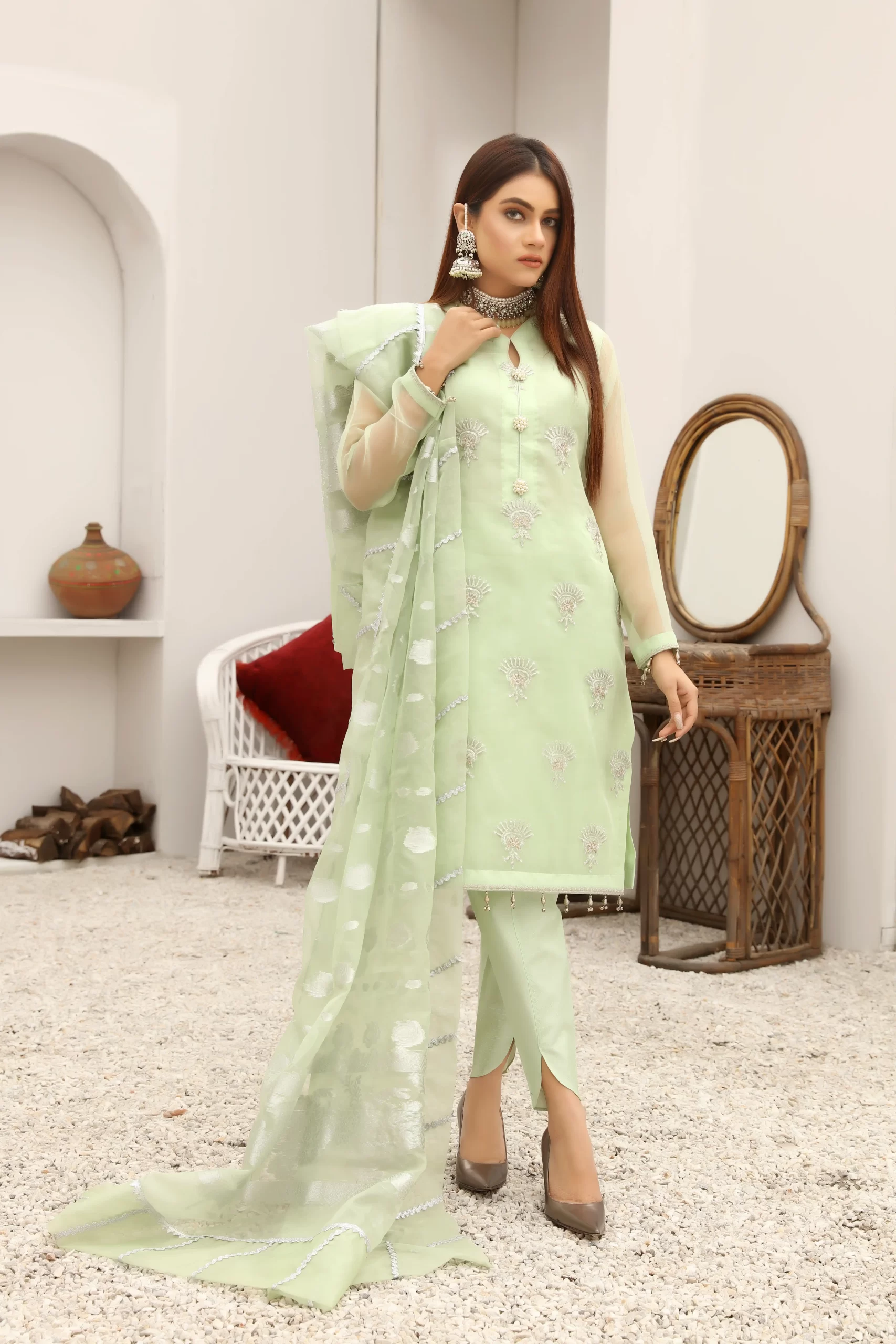 MARJAAN
₨ 15,500