Ayla

CLICK HERE TO INQUIRE ABOUT PRICE
Size Chart
| SHIRT SIZE | XS | S | M | L | XL |
| --- | --- | --- | --- | --- | --- |
| SHOULDER | 13.5 | 13.5 | 14.5 | 15 | 16 |
| CHEST | 17.5 | 18 | 20 | 22 | 23 |
| SLEEVES | 20 | 21 | 22 | 22.2 | 23.5 |
| HIP | 19.5 | 20 | 22 | 23.5 | 24.5 |
| LENGTH | 36 | 43 | 44 | 45 | 45 |
| PANT SIZE | PANT SIZE | PANT SIZE | PANT SIZE | PANT SIZE | PANT SIZE |
| N/A | XS | S | M | L | XL |
| LENGTH | 34 | 35 | 36 | 37 | 38 |
| THIGH | 20 | 22 | 20 | 27 | 29 |
| WAIST | 27 | 31 | 22 | 41 | 45 |
Delivery: 2 weeksNote : Delivery will vary as per customer location
Add to wishlist
Adding to wishlist
Added to wishlist
Description:
Designed on karandi net in a beguiling blue , this shirt is adorned with beautifully composed floral ari work detailings in beautiful hues of Egyptian blue and classic white , followed with sequence work detailings on the neckline . Paired with a contrasting organza dupatta adorned with beautiful floral composition, this ensemble is a quintessential choice for evening soirées and winter dinners.
Details:
Shirt : fabric : karandi net
Dupatta fabric : karandi net
Pant fabric : semi rawsilk
Work Details:
Ari work
You have not viewed any product yet.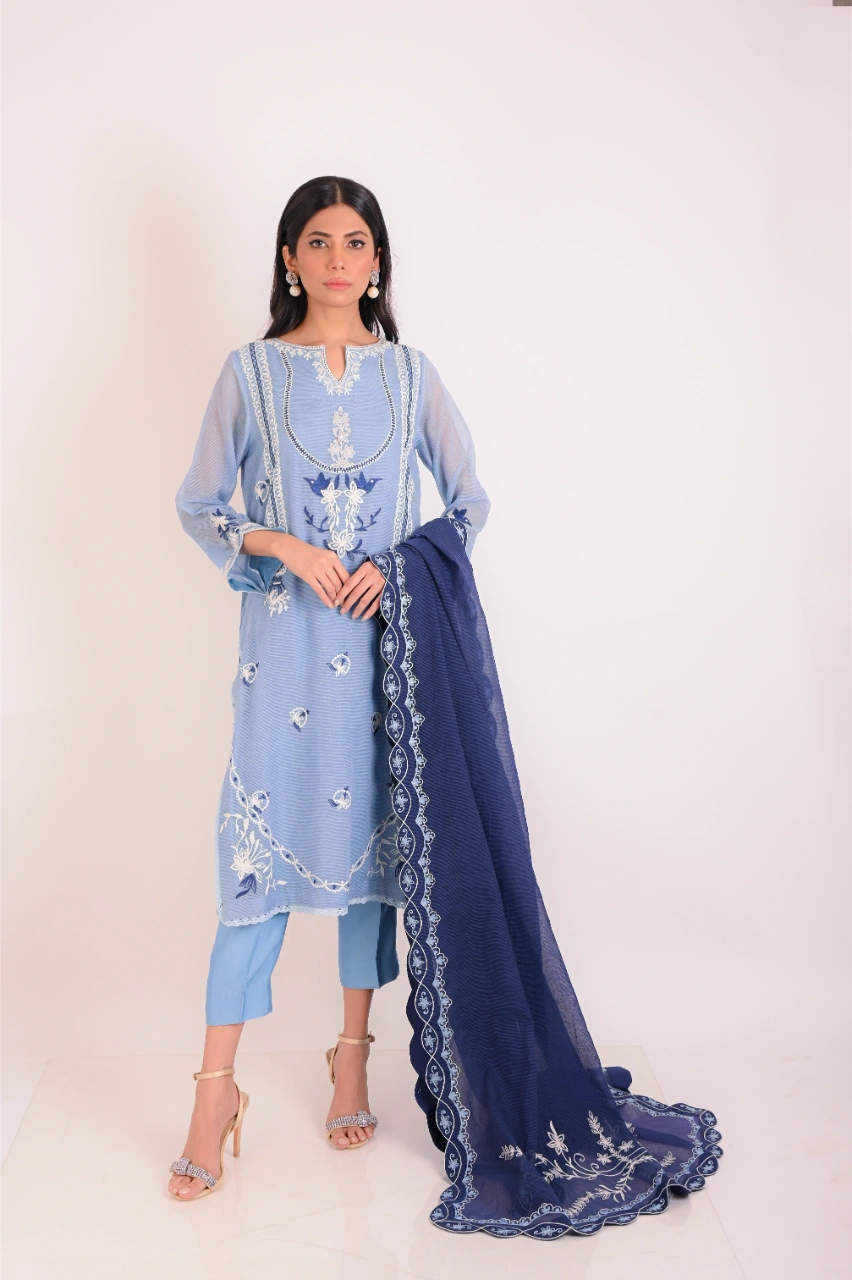 Ayla